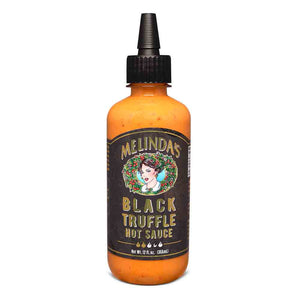 SET YOUR MOUTH ON FLAVOR: Melinda's took black truffle hot sauce up a notch by making it the Melinda's way. More delicacy than dare, our truffle hot sauce strikes the perfect balance of heat and flavor with the rich and creamy aroma of premium black truffles and the spicy kick from cayenne peppers.

TOP SHELF FLAVOR: You want fire? That's easy. Anyone can strike a match, but few can strike a balance. Our black truffle hot sauce is a rich, complex blend of spicy and sweet that packs a punch without losing the decadent truffle flavor.

WHOLE, FRESH INGREDIENTS: Real Italian black truffles and the best peppers on the planet, Melinda's crafts their condiment sauces with whole, fresh ingredients for people who care about those kinds of things. Allergens - This product contains milk, and may contain traces of soybeans, tree nuts (coconut), egg.

LEVELED UP FOOD, EVERYDAY PRICE: Level up your favorite dishes with an unprecedented spicy truffle flavor. Try Melinda's Black Truffle Hot Sauce on fries, pasta, chicken wings, mac and cheese, baked potatoes or whatever you are eating right now. Our 12oz squeeze bottles make it easy to apply liberally or add just enough to your favorite dish.

MADE THE MELINDA'S WAY: At Melinda's, our philosophy is simple: heat and flavor mean everything. We pride ourselves on striking that perfect balance of heat and flavor in every sauce we make so that you can have an eating experience unlike any other.