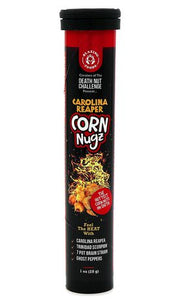 Blazing Foods Carolina Reaper Corn Nugz are like corn nuts, but super hot!!!
Super crunchy and savory toasted corn with a blast of heat from Carolina Reapers, Trinidad Moruga Scorpions, 7-Pot Brain Strain and the infamous Ghost Pepper! Described by many as "the perfect munching snack with a serious kick". We rate this one a medium to wild on the heat spectrum.
You will keep going back to get that savory hit of garlic, onion, spices and sea salt followed by the intense burn of our super-hot pepper blend. 
INGREDIENTS: Corn, Corn Oil, Peppers (Carolina Reaper, Trinidad Moruga Scorpion, 7-Pot Brain Strain, Ghost – Bhut Jolokia), Sea Salt, Spice