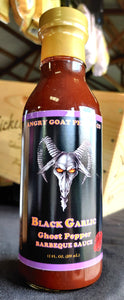 Black garlic ghost pepper barbecue sauce.
A thick savory, and complex sauce that has layers of flavor. The black garlic provides an earthy, slightly chocolatey undertone with an accompanying layer of garlic.
The ghost pepper livens up the sauce, and surely your mouth. This barbecue sauce is meant for those who like it hot and flavorful.
Try this on ribs, chicken, sauteed veggies, burgers, french fries or smoked brisket.
Heat level 7 out of 10