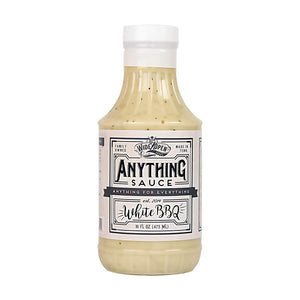 ALL-NATURAL. Reach for Wide Open Foods White BBQ Sauce when you want to add a little zing to your dishes without the artificial ingredients. This all-natural product is free of gluten, MSG, dairy, soy, carbs, sugar and high fructose corn syrup!

TANGY TASTE. Based off the white BBQ sauce that's native to Northern Alabama but without the mayo, this natural anything sauce is made with non-GMO expeller pressed canola oil, water, vinegar, salt, lemon juice, spices, ground mustard and xanthan gum.

USE ANYTIME. White BBQ Sauce can be used as a base; for grilling or dipping; as a substitute for mayo, butter and oil; or mixed with other spices or sauces. Although delicious by itself, it's the go-to sauce for creating your own unique flavors. 

GREAT ON ANYTHING. Turn any recipe into a zesty blend of flavor. Wide Open Foods White BBQ Sauce can be used on chicken, pork, beef, seafood, turkey, salads and anything else you want to add a tangy flavor to.

GO-TO SAUCE. Adding that special zing to your food with its rich and creamy, zesty flavor, this White BBQ Sauce will make you change the way you barbecue and cook up meals. Use it to grill, marinate, bake, sauté, glaze, dip and dress anything you want!
 NO GLUTEN OR MSG

 NO DAIRY OR SOY

 NO CARBS

 VEGAN FRIENDLY